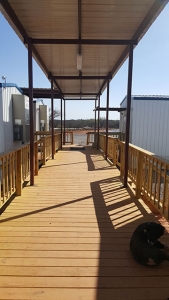 Challenged with a tight budget and even tighter 60-day timeline, Aries relocated and set up a fully operational facility on time and under budget.
Enter Aries Ninnekah Lodge – flagship facility located in Ninnekah, OK., a region that is beginning to show great promise and optimism for the energy production industry. From setup to operation, this project is the perfect example of Aries Building Systems capabilities and versatility. Demonstrating strength in every aspect and division of their business: financing, site engineering and design, site construction and setup, camp operation and customer service; Aries proves why they continue to lead the way.
"Not only did we reach our goals of an on-time and under budget completion, we strongly exceeded them."
"Not only did we reach our goals of an on-time and under budget completion, we strongly exceeded
them. Given a short timeline of 60 days from signing to be operational, it was imperative that all parties involved communicate and execute the full scope efficiently, in order to provide a quality product, and service to our customers as well as reach our goals." says Danny Heisler, Aries Director of Camp Operations and Service. "As a result, in true Aries fashion, we provided a full turnkey solution to our customers housing needs, in a new region, in the allotted timeline and while finishing significantly under budget."
The 25 unit, Jack and Jill style 80 bed facility will provide housing and amenities to Frac Tech Services International FTSI, who are currently housed in 3 additional Aries facilities in Texas. Over the next 5 years as the market shows an additional need for housing, this facility has the option to expand. Aries Ninnekah Lodge provides private rooms, full service catering, cleaning, laundry, wifi, satellite TV, recreation area, indoor and out door exercise areas. And of course, these great accommodations come top-notch management and full service.
Learn more about Aries Building Systems: www.ariesbuildings.com
Aries Building Systems Contact: (888) 598-6689 or info@ariesbuildings.com
About Reliant Asset Management
Aries Business Building Systems is a subsidiary of Reliant Asset Management. RAM specializes in supplying remote work force and commercial modular buildings for a wide range of industries and applications across the U.S. and Canada. The company is a single source contact and contract for all services necessary to ensure that every aspect of the required structure is met or exceeded. With a seasoned team of modular building experts, Reliant provides a wide range of integrated offerings including customized design, manufacturing, transportation, construction, support services and financing to name a few. In addition to being named to the Forbes list of America's Top 20 Most Promising Companies, Reliant was also ranked number 3 on the 2014 Inc. 500, Inc. Magazine's annual list of the fastest growing private companies in the U.S.
###