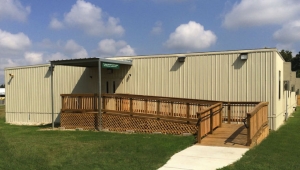 Aries goes beyond oilfield again, building a 1.5 million dollar modular educational facility for Hibbett Middle School in Florence, Alabama. Scheduled to begin construction in May 2016, Aries Building Systems will custom-build a temporary school campus while the new $30 million Florence Middle School is under development.
The modular educational facility will allow an uninterrupted school year for the 700+ students and faculty at Hibbett Middle School. 
"The modular buildings will be custom built, right down to the Florence Falcons colors of gray and blue." says 
Regional Manager at Aries, Bryan Wilkerson. "We'll be meeting every specification of the school system with these modular buildings, and the students and teachers will have nothing short of a brand new school, complete with all the comforts – when school starts back." he added.
Aries Building Systems is a leading commercial design, manufacture, transportation, installation and financing partner specializing in supplying full turnkey commercial modular buildings, mobile classrooms and remote work force housing to a wide range of industries and federal, state and local municipalities across the US and Canada.
Read full news article here: