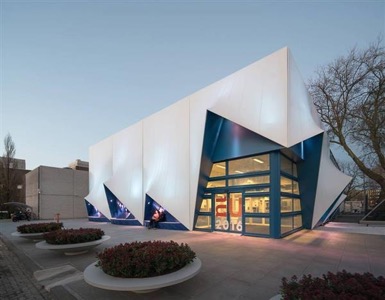 2016 brought all kinds of extraordinary modular building innovations into global focus. From "461 Dean" – the world's tallest modular building in New York City, showing the world that modular design has the potential to make cities more affordable – to 3D printed modular structures, pop up modular construction, and recycled prefabrication solutions illustrating what innovations are peeking at us from over the horizon.
In November, 461 Dean became the world's tallest modular building following a series of dramatic setbacks and challenges which ultimately put the ambitious project 10 millions dollars over budget, 2 years behind schedule, and gift wrapped in legal drama galore. However, the final product still stands taller than any other, and promises to bring an equally high level of financial relief to it's inhabitants, both commercial and residential. In an area where the median rent is pushing $3,000 per month, a new building offering monthly rent in the $500 + zone is music to New Yorker's ears. A new tune indeed, and an example has now been set to other cities: modular building has the potential to be a real solution. Although the delivery of 461 Dean didn't go (even remotely) as planned, the world's tallest building has set the stage for the rest of the world to not only "think outside the box," but 32-stories worth of boxes.
Just beyond the shadow of the world's tallest modular building, a handful of other interesting innovations have made their way into 2016. On the heels of a Chinese construction company erecting a partly modular skyscraper in 19 days, there have been many "feats of speed" in the modular building industry this past year. As we know, modular construction continues to increase in popularity because it's built offsite using the same architectural designs and materials as traditional construction methods, and delivered and erected "turnkey" style – limiting environmental disruption, a multitude of safety issues, and creating less waste. The speediest of the modular innovations of recent? Pop up shops and flash modular. Temporary retail spaces that are easily moved from location to location and easily modified are on the trend. A great way for companies to perform test marketing, utilize seasonal business and event sales, and enjoy the savings associated with pop-up retail endeavors. Quickly becoming the as hip as it gets, modular spaces are providing mobile hair salons, cocktail parties, bar/restaurants, medical facilities, and even tiny modular banks.
And finally, we can't talk about 2016 without mentioning how the year kicked off in the Netherlands; a country recognized for it's inventiveness. The National Maritime Museum in Amsterdam became the appointed location for ministerial meetings (high level official meeting venue) – in The Europe Building. A partially 3D printed modular structure, The Europe Building was created by local architects DUS, whom also garnered much attention years back for it's 3D printed canal house project. In any case, we can say with confidence: We've seen the future. And it's modular.
From the resident looking to save money on rent in New York City, to the city planner searching for ways to conserve space in Shanghai, China, to architectural trailblazers serving the Council of the European Union in The Netherlands, Aries Building Systems is a proud participant and innovator in their own right. Committed to providing cutting edge modular solutions to each and every customer, ABS is looking forward to a new year of delivering the highest standards possible.
If you are considering modular building for your next project or development, sign up to download our free 'Choosing Modular' booklet for more information on the types of modular building Aries Building Systems can help you with. (And receive our quarterly newsletter as an added perk!) You can also give us a call at (888) 995-2971 or shoot us an email at info@ariesbuildings.com. Thanks!
###