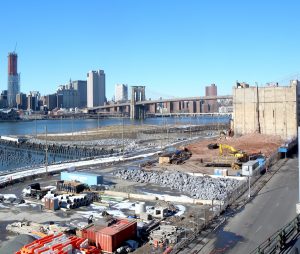 Say hello to the world's tallest modular building: a 32 story multi-family tower constructed out of pre-fab modular units. The unit was designed to be 'half market-rate' apartments for low to moderate-income tenants in Brooklyn.
What was supposed to be a project that require less time, fewer workers, a faster ROI for developers, and a lower finishing cost turned out to be quite the opposite. Why? Between litigation and the delay of transferring the manufacturing to different companies, the finished project didn't just hit a few speed bumps…it had to be towed out of the ditch.
The benefits of modular construction, especially one of this scale, is 90% of the construction was completed off-site at the nearby Brooklyn Navy Yard, cost 20% less than a traditional skyscraper, and took 4 years to complete.
The world's tallest modular building struck ground in 2012 and had a completion date in 2014. The developer and the designing architects were able to plan a timeline that shaved off 30 months and saved 20% on construction. The developer was prepared to make the apartment modules which would then be stacked like legos, on-site.
When the modular pieces didn't fit together correctly and there was severe damage to the units, there were accusations between developer and the construction company as to whose fault it was that the modules didn't fit together and there were leaks and water damage.
There was enough damage to delay the project for two extra years and raise costs beyond the expected: and lawsuits are still ongoing.
While some criticize the developer for pushing modular technology toward the unconventional, the end result is a beautiful multi-family development.
Where perhaps, could the process have been more 'dependable'? There is a lot of praise for the developer, for even challenging the idea of ordinary and attempting extraordinary. However, the choice of using a less than stellar modular contractor and manufacturer might have been the biggest difference.
Established modular manufacturers, like Aries Building Systems (currently working on various New York projects), have had years to build up consistent delivery of modular excellence around the world. They have design expertise, technical innovation and financial support that ensures seamless implementation. They offer a single source contract for all services necessary: water hook ups, electricity, septic solutions, level and grading of land…and more.
With the Aries Turnkey Advantage Schedule, there is a 30% to 50% time savings because they house the design, building engineering, in house manufacturing, transportation, construction services, civil work, and land development all under one roof.
The downward spiral for the Brooklyn project was a lack of experience in modular manufacturing and the failure to anticipate the modular building pain points in a large-scale design.
With Aries, you can be assured that the company is experienced and well aware of modular technology and the execution it requires to make sure the project is runs flawlessly.
If you are considering modular building for your next project or development, sign up to download our free 'Choosing Modular' booklet for more information on the types of modular building Aries Building Systems can help you with. (And receive our quarterly newsletter as an added perk!)
Sign up now to receive the Choosing Modular brochure!