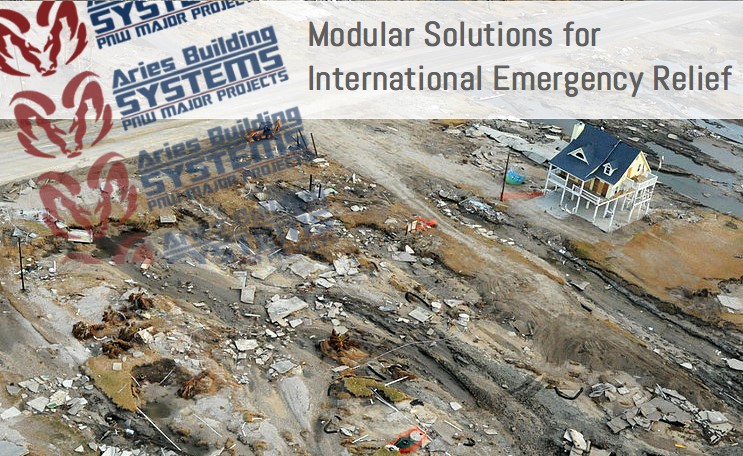 What do we do after the most powerful storm of the century hits the Atlantic region? First, we cast down our heads and hearts, and mourn the loss of "all that was" before tragedy struck. And then… we rebuild. On the heels of Hurricane Harvey, Hurricane Irma tore her way through the Caribbean up through Florida, Georgia, and beyond on September 6th, 2017 – leaving pure devastation in her path, leveling communities and stamping out power grids. The Category 5 storm delivered a deadly mix of flooding and wind. A desperate situation, but not one without hope. Communities have pulled together, including our team at Aries, in order to help the effort – in the form of modular buildings for disaster relief.
The Telegraph reports The devastation wrought by Hurricane Irma across the Caribbean will not dampen the region's resolve to continue to be one of the world's most popular holiday destinations, tourism bosses have said. Though some islands, notably the British Virgin Islands, Barbuda and St Martin, suffered extensive damage from one of the strongest storms to hit the region in a decade, the Caribbean tourist board said fewer than 10 per cent of hotels and resorts are set to be closed for longer than a week.
"The best way to help us rebuild is to continue with your holiday plans, keep making your holiday plans," said Colin James, the CEO of the Antigua and Barbuda tourist board, the latter of which was reduced to "rubble" by Irma, which damaged 90% of the island's buildings. "We are working very hard to help Barbuda, but it will take a year for repairs to be fully completed."
Meanwhile, President Trump makes his third visit to storm-ravaged parts of the United States in the past few weeks after two major hurricanes, and he again praised the federal government's performance. "We're doing a good job in Florida," Mr. Trump said to reporters on Air Force One, according to the New York Times.
The role of modular buildings for disaster relief efforts is a large one. Immediate solutions are what is needed, and portable buildings are a quick answer to the call for help. Those who have been affected by Hurricane Irma who are in need of emergency modular buildings may choose from the existing inventory of portable structures or request construction of a new building with custom design. Aries Building Systems can also provide emergency assistance on a larger scale, e.g., delivering a structure to serve as a temporary schoolhouse or medical facility.
It's important to remember that modular building companies in Texas, Florida, Georgia, or the Caribbean aren't always able to provide the "full scope" of services like Aries Buildings is capable of providing. Besides having the ability to finance, develop, design & manufacture modular buildings, Aries offers every option possible in the face of emergency housing or building needs:
Design/Build Engineering
In House Manufacturing
In House Transportation Arm
Construction Services and General Construction
Civil Work
Land Development
Capital and Finance Leasing
Logistics Contracting including:
Food Service and Cleaning
Security and Transportation Services
Laundry and Tailoring Services
Waste Management
Vector Control
Labor Support and Supply
Tailor made Maintenance Contracts
Power Transmission and Design Including Generators
Water Storage, Pumping and Sewer Treatment
Consulting
Aries has a history of providing emergency modular buildings for disaster relief, including the devastating Canadian wildfire of May 2016 and recent flooding in Louisiana resulting from long periods of torrential downpours in August 2016. With the experience and expertise of the Aries' workforce, exceptional and fast service is guaranteed.
For more information, or quotes on how we can provide Hurricane Irma Relief, contact Aries Building Systems at 877-721-4363 or visit our devoted international emergency relief page on our website: http://ariesbuildings.com/international-emergency-relief/
Additional resources to help you mitigate flooding and storm damage: