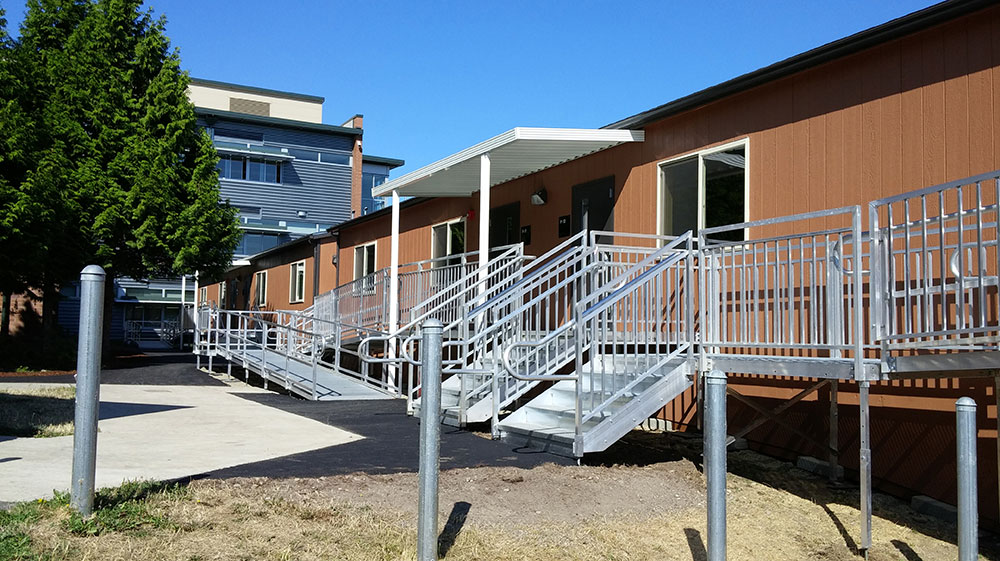 Most consumers today see the value in purchasing a previously-owned car, or a previously-owned house, or taking over the lease of a previously occupied commercial building. So why not apply that same financial savvy and business acumen to your commercial construction needs? Aries Buildings' sister company, Advanced Modular Space, offers an extensive used modular inventory featuring buildings of all shapes and sizes, ready to be shipped and installed at your location. Let's take a closer look at Advanced Modular and see how purchasing a previously-owned modular building can save you time, energy, and cost.
Our modular units are assembled indoors with minimal waste, and are thoughtfully designed for maximum reuse. This means you can custom outfit any of our existing buildings to suit your business' specific needs. Want to add on a recreational area to an administrative complex? We can do that. Need climate-controlled offices for a remote workforce location? We can do that too. Looking for buildings that meet the requirements for medical or military unit? Bring it on. If you can dream it, one of our modular buildings can be it.
If you're on the fence about purchasing from our used modular inventory, never fear! Advanced Modular, like Aries Building Systems, offers in-house leasing for our clients. We take the extra expense and the accompanying headache out of working with a third-party leasing agency by handling financing and leasing as well as construction, transport, and installation. No matter your needs, Aries and Advanced Modular Space have you covered!
So what are you waiting for? Give Advanced Modular Space a call today at (703) 672-3537. A friendly and knowledgable team member is waiting to answer any questions you might have about our used modular inventory. If you're ready to browse our available units, we have a searchable inventory ready for you here. Happy shopping!
GET THE LATEST IN THE MODULAR INDUSTRY
Subscribe to the RAM Report