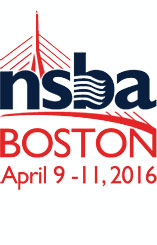 The NSBA Annual Conference and Exposition is the one national event that brings together education leaders, board members, superintendents, and decision makers to share ideas, technologies, products, and services shaping the future of education.
Aries Building Systems will be located in booth 1063 where they will be showcasing projects and modular building accomplishments in the educational sector. Aries Building Systems, known for their success in modular workforce housing, also offers a multitude of education building solutions for school districts – from temporary classrooms to permanent fully-functional schools. Aries' representatives will be present during the expo to answer questions and share case studies about how Aries works with school administrators to provide full turnkey solutions and accelerated delivery so students and faculty enjoy uninterrupted education.
Over 7,000 are expected to attend this years' National School Boards Association Conference is being held in Boston from April 9th -11th.
See more about the NSBA conference www.nsba.org/conference
Learn more about Aries Building Systems: www.ariesbuildings.com
Aries Building Systems Contact: (888) 598-6689 or info@ariesbuildings.com
About Reliant Asset Management
Aries Business Building Systems is a subsidiary of Reliant Asset Management. RAM specializes in supplying remote work force and commercial modular buildings for a wide range of industries and applications across the U.S. and Canada. The company is a single source contact and contract for all services necessary to ensure that every aspect of the required structure is met or exceeded. With a seasoned team of modular building experts, Reliant provides a wide range of integrated offerings including customized design, manufacturing, transportation, construction, support services and financing to name a few. In addition to being named to the Forbes list of America's Top 20 Most Promising Companies, Reliant was also ranked number 3 on the 2014 Inc. 500, Inc. Magazine's annual list of the fastest growing private companies in the U.S.
###