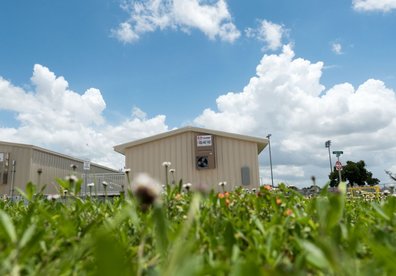 Here at Aries Building Systems, we take a lot of pride in our efforts to design and manufacture the best modular buildings available on the market today. With each new design, we set out to reinvent how modular buildings are thought of by putting ourselves in your shoes, and giving our all to ensure the utmost quality and care go into our designs to suit the specific needs of your business. Not every business is the same, and we understand this. With our huge selection and wide array of specially designed modular buildings, we are confident that we have exactly what you're looking for.
Many people, when they hear the words "modular building", think of quickly assembled buildings without the care and craftsmanship of brick and mortar designs. Today that school of thought has been put to rest with the innovations to the modular manufacturing process over recent years. Better materials, designs, higher quality construction and more; we've left no stone unturned. At a fraction of the time and cost investment, modular buildings have adopted new cutting edge design principles that rival the more traditional conventions of quality and comfort.
Aries Building System's modular solutions exceed all codes as well as standards of excellence and then some, and we're constantly raising the bar to re-imagine our industry.
RAM (Reliant Asset Management) About Our Parent Company
Reliant Asset Management is a leading specialty rental company providing premier modular space solutions to customers throughout North America. From remote workforce housing to single and multi-story buildings for growing businesses and organizations, Reliant Asset Management and its subsidiaries support a wide range of modular needs including design, manufacturing, transportation, construction, and financing.
Visit RAM's website here: http://rammodular.com