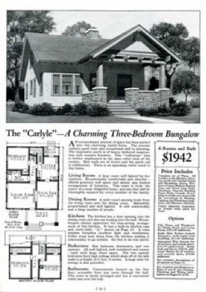 Did you know that it's estimated that nearly every American has stepped foot in a modular building?
Aries Building Systems takes great pride in our history. The road to creating high quality modular construction isn't easy- it's a process it's taken us many years to perfect. As we continue to move onwards and upwards, we thought it would be interesting to learn more about – and share with you – the history of the modular building industry.
In the early-1800s, a man named Henry Manning created the first known advertisement for a prefabricated home. The fabrication process was, of course, not as efficient as it is today; Manning's crew constructed the components in London and shipped them to be constructed in various other countries. It wasn't just small modular homes that were being made back then- a biggest modular project of the century was a 1,000 patient hospital, an early use of modular buildings for medical application.
Sears was distributing their catalogue of prefabricated buildings by 1908. In the next thirty years, they had sold over half a million modular homes.
It wasn't until after the end of World War II that the popularity of the modular construction process exploded. The soldiers returning home had a demand for housing and places of work that far exceeded the capability and speed of traditional construction. Enter modular construction.
Over time, the modular construction process has been used for many applications- medical, military, industrial, commercial, government, and of course, housing. Although Aries Building Systems hasn't been around since the dawning of the modular industry, we are confident that our quality products and second-to-none leadership will place ABS on the cutting edge of modular building industry well into the future.
About Reliant Asset Management
Aries Business Building Systems is a subsidiary of Reliant Asset Management. RAM specializes in supplying remote work force and commercial modular buildings for a wide range of industries and applications across the U.S. and Canada. The company is a single source contact and contract for all services necessary to ensure that every aspect of the required structure is met or exceeded. With a seasoned team of modular building experts, Reliant provides a wide range of integrated offerings including customized design, manufacturing, transportation, construction, support services and financing to name a few. In addition to being named to the Forbes list of America's Top 20 Most Promising Companies, Reliant was also ranked number 3 on the 2014 Inc. 500, Inc. Magazine's annual list of the fastest growing private companies in the U.S.
Learn more about Aries Building Systems:  www.ariesbuildings.com/
Aries Building Systems Contact (888) 995-9105 or info@ariesbuildings.com
###